So this might be a weird post because I'm still formulating and figuring in my head what I want to do with this new little dollhouse.
I know I want it to be modern. But not the sharp shiny modern that's so cool to look at but doesn't seem like it'd be comfortable you know? I want the Bungalow to be just off the beach, maybe on the same property as the Gothic Victorian. Maybe it's occupied by a great grandchild of Mr. & Mrs. Doll, Dolly's granddaughter or grandson. Or maybe the property is rented out for the season or its a guest house for the current owners of the big dollhouse.
Whoever is living there, I want them to be comfortable but definitely living in the same world I am. And that means they have proper electricity, and a floorplan more conducive to casual living.
When I was a kid we used to rent a cottage up on Lake Delton (I think that's the spelling) and I remember the furniture was older and everything was a little hodge podge. As if when something broke it was replaced with a new whatever but no one ever bought furniture or appliances in sets. The fridge wouldn't match the stove or sink, and there was no dishwasher. My mom was the dishwasher.
Come to think of it that must have been a sucky vacation for my mom. She still had to deal with us kids, still had to cook, do laundry and dishes. She just didn't get to do it in her own home. Not much of a vacation really.
But that's the feel I want for the Beach Bungalow. Mismatched, comfortable, but modern. With all sorts of touches that make the people who live there feel like they haven't traveled back to the seventies.
So my inspiration...well I've got some pictures to show you. I want to wire this dollhouse and that requires more than a modicum of planning. The dollhouse shows the upper and lower floors divided thusly.
I'm not sure I like how small the rooms are with the dividers. Not very modern is it?
So my thought is to take out two of the dividers. I'll leave one in upstairs, to separate the space for a bathroom. But the one that makes a upstairs hallway and the first floor divider? Yep, those are gone. Like, gone gone gone.
So big open spaces. One main room with the kitchen and family room merging into each other. I want the kitchen on the left I think. There's enough room for a sink, a stove and a fridge and some shelves maybe or a few cabinets. This is the sink I have in mind.



It'll be so pretty under or just to the side of the big window don't you think?



As for the stove, I don't want anything too modern. But let's not make it completely difficult to cook right?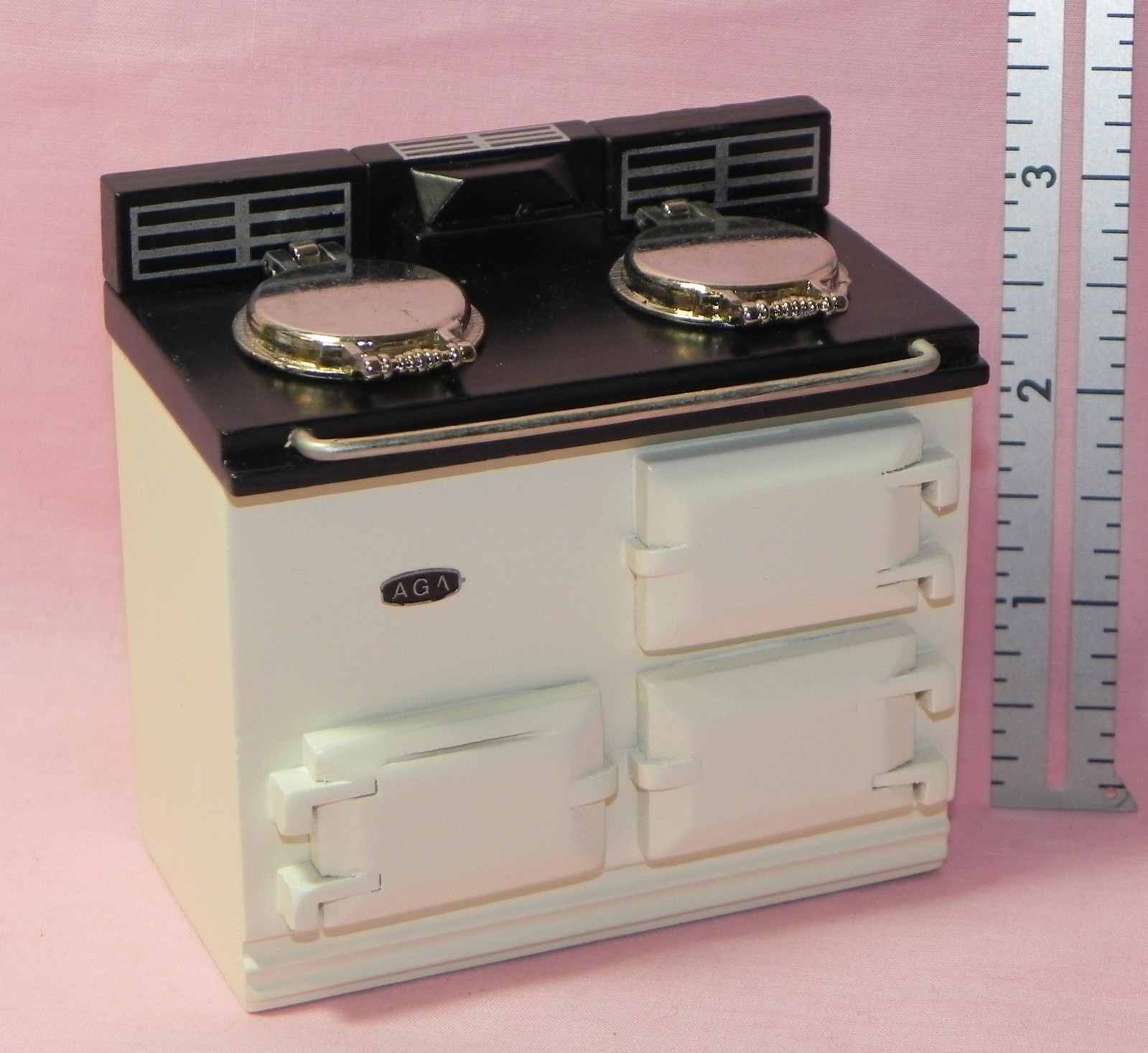 An Aga stove! Just oddball enough that it works but its not a coal or wood burner!
And Denise gave me a kitchen set with a cute little fridge. It's white. I'm wondering if I could wire it to light up when it opens. Wouldn't that be cool? No picture but its a nice little wooden piece. But it can't be a huge kitchen because of the stairs, the window and the living/family room need space too.
Which leads me to something else I dislike. I really don't like those stairs. They're awkwardly placed. And if you walked up them you'd smack your head on the eaves of the roof when you got to the second floor. So what I want to do is something like this...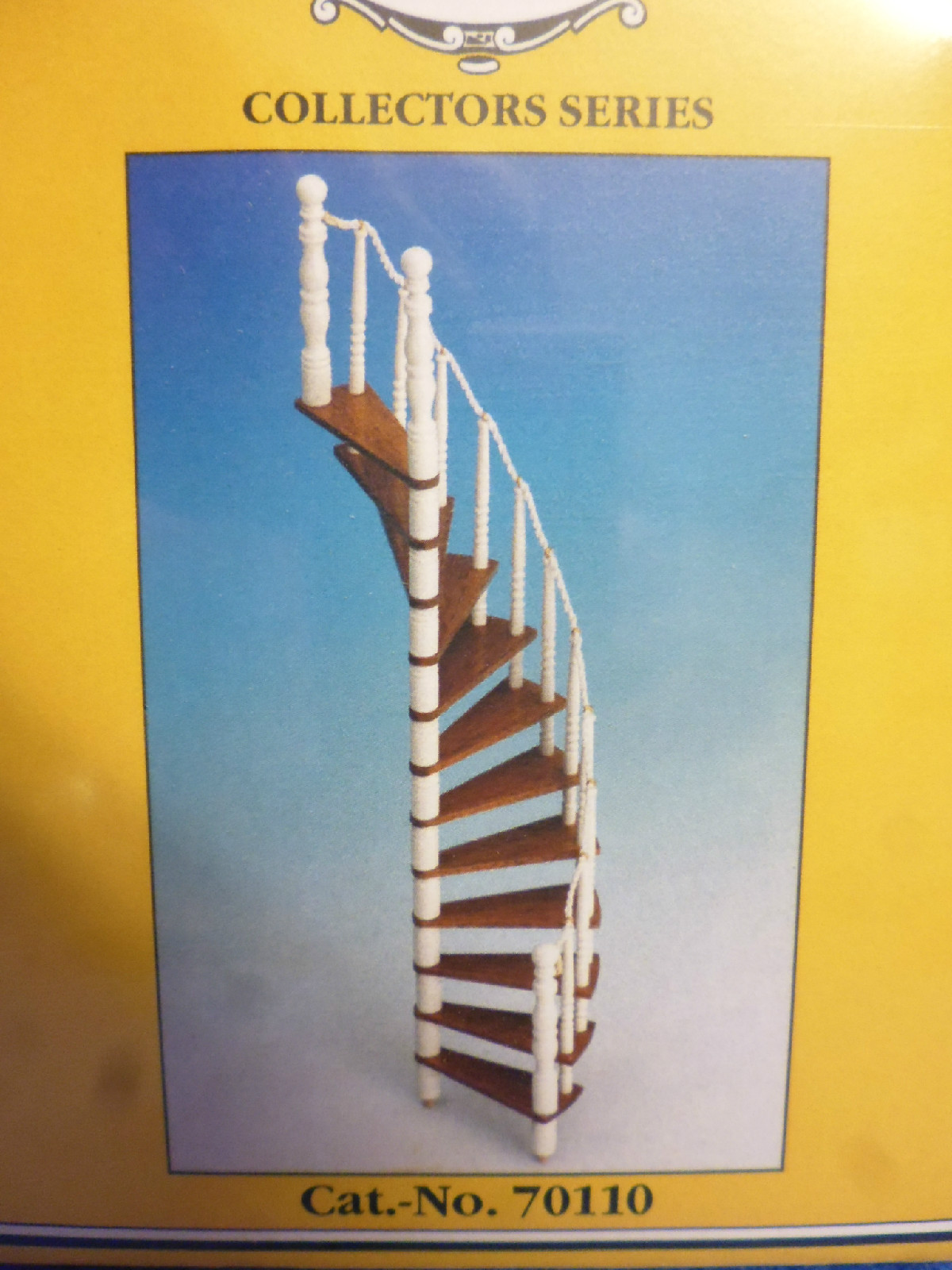 Isn't it pretty? And space saving too.
It would leave more room for the furniture and kitchen. So I could have cabinets or something rather than the stairs taking up all the wall space. Or it could be a little office area. I mean we need a spot for the laptop don't we?
The opposite wall near the front door has a decent amount of depth before we run into the front door. See?



See? It looks like around an inch and a half. Which leads me to the idea I had for that wall inside. This is my inspiration photo. I love how this looks.


Isn't that lovely? I don't know if I could do the windows, I'd have to see. But I love how that looks.
But I do have a fireplace...



It matches the floors. So I could do the shelves in white I think.

I want to wire this dollhouse for electricity and a chimney is a handy place to run wires through. And the dollhouse comes with a chimney for the roof. So I find my position, make a chimney for the outside and shelving for the inside.
And for the ceiling fans for the first floor, I want to do something like this:
I can hide some of the wiring inside.
This is something else I absolutely adore.
I don't want anything quite so extreme but some built in shelves against the bedroom wall common to the bathroom? That'd be neat right?
I'll admit, I really debated what to do for the ceiling on the second floor. I thought beams at first with beadboard between them but then thought the roof came so close to the floor that it wouldn't be practical. So I figured paint it and then just see where inspiration took me. So it's not as planned out yet.
But I did find other ideas for the main floor. I'd absolutely love to have an island instead of a kitchen table. With little stools around it to eat at. So I found this.


The cabinet doors actually open!
And in order to make it more table or bar like I figured I'd find something to extend the top of it for the squared off part. So cabinets on the kitchen side and then high stools on the opposite for dining.
I'm trying to figure out if I could make a pot rack to hang above it? Or if I don't have enough ceiling room. Maybe I'll do a pot rack over the stove or something. But I love how pot racks look. I bought some dark copper and bright copper wire so maybe I could make one. Still not sure about it. But this is gorgeous.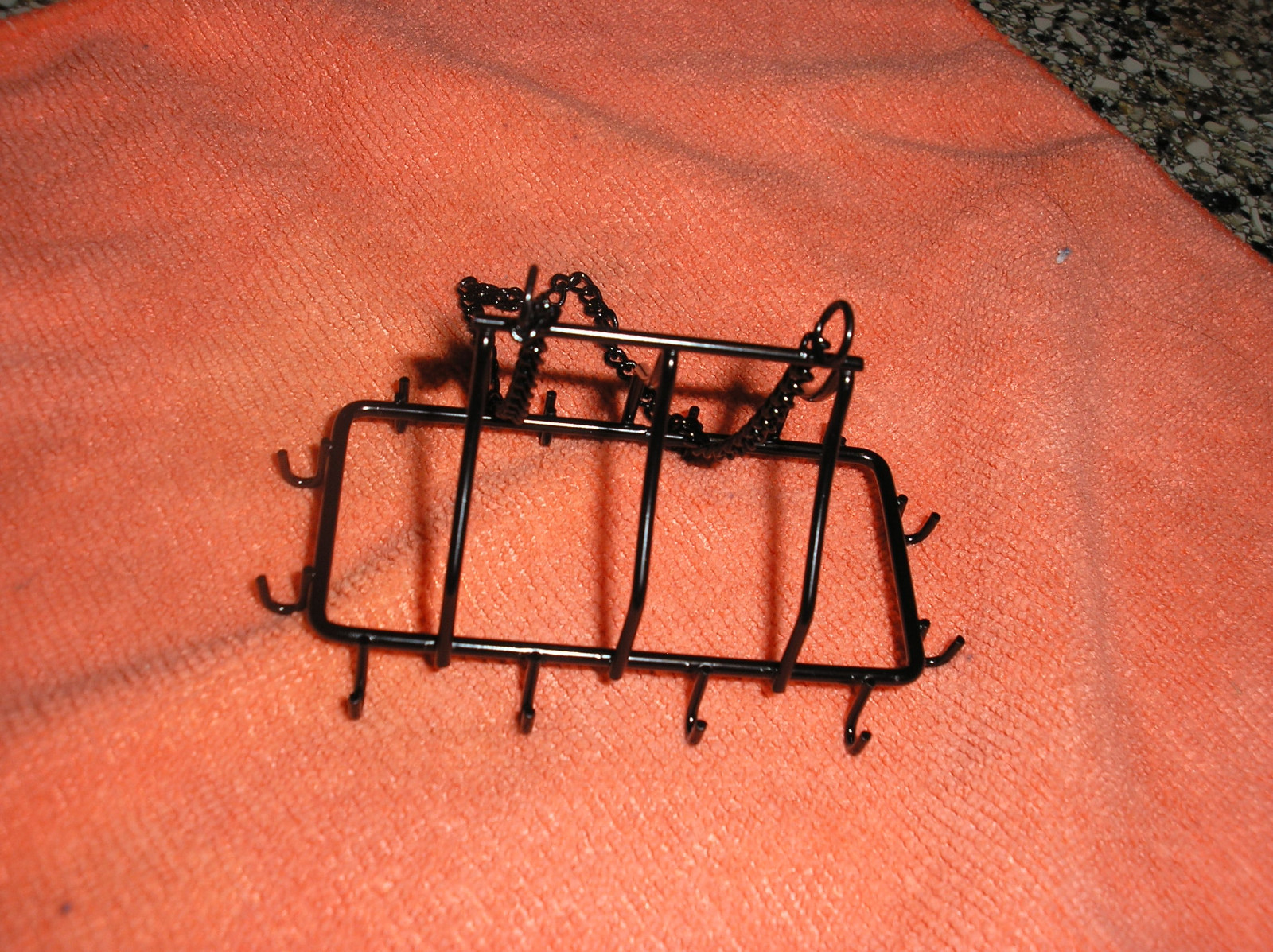 So pretty. But very large for such a little dollhouse.
Denise gave me a couch, love seat and chair in a pretty blue that will just go with the fabric I found for the curtains. More on that in a minute. But I don't want to be too matchy. So what I was thinking was a daybed/trundlebed. Just in case who ever rents the house has guests or kids.
I found this on ebay pretty cheap. I'll have to make the trundle bed but that won't be too hard at all. Some nice bedding and no one will notice. And its more subtle than a murphy bed.



See? Enough space beneath it for a trundle but with some pillows and covers it can double as a couch or love seat.
Inspiration dishes! These are adorable but still a little too formal for the casual house. Almost too pretty to resist though. Must resist!
I want something with bright colors, almost like Fiestaware but in miniature. Have to keep looking.


Love the bright little flowers!
This lamp would go perfectly in my color scheme...


Brown, cream, bronze... and it would match the daybed.
And I'd like to cover one of the chairs in brown, so the whole living room doesn't match. Kinda like this brown. It's sold now though.


Love that fabric!
Here is a shot of the fabric that inspired the color scheme. I want to use it for the curtains on both floors, some pillows and finishing touches to pull the house together. The main floor kitchen/family room is going to be blue and brown. The second floor is going to be more cream and brown with touches of pale blue. The walls are going to be the same throughout the house but the bathroom will have white tiled walls near the tub.
Love the dark and light blue and mix of tan and brown and cream.
I'm kinda excited because I think I know how I'm going to make the curtains and curtain rods. I've got some chopsticks that are too big to use as curtain rods for the other dollhouse but they're the perfect length for the windows in the Bungalow.
I can either make the curtain hooks or buy some little jewelry findings and sew them onto the curtains. Still working that part out. But I'm so in love with this fabric and the idea of a color theme throughout the dollhouse. It's such a contemporary idea you know? Or at least its contemporary to me.
So? What do all of you think? Are you as excited as I am? Husband is teasing me that I have an Ebay addiction... he might be right. I think I might have to snatch up that spiral staircase!